Book a Tour
Come and visit our school, meet the principal and staff. 
Enrolment
Find out more about enrolment at Kuyper.
Refining character and competence
Our Secondary years aim to prepare for life beyond school, challenging students to analyse the lens through which they view the world and how this impacts their knowledge, choices and application of skills. During this important stage of personal growth, our Secondary programs are geared to provide a wide range of opportunities to practise skills and extend experience. The expectation of responsibility for self, and responsibility towards others, forms a solid platform for developing independent learning skills and a servant-hearted practise of competence.
A broad selection of subjects, delivered by specialist teaching staff in practical, academic, creative and technical fields, caters for the strong development of individual skills. A positive educational environment assists students refine their sense of personal purpose and perspective as they begin to consider their place in God's world.
Our vision is to see students faithfully using their skills to know God and serve others.
At Kuyper, we understand that mobile devices are integral to the world in which our students live and significant to learning twenty-first century skills.  Every student from Year 7-12 is provided with a personal Chromebook package at no additional cost. In conjunction with the use of Google Classroom, the Chromebook initiative provides a unified digital platform that integrates learning opportunities between School and home.
In partnership with parents, School programs addressing responsible stewardship and digital discipleship support students in developing key skills for responsible use of technology, and ensure appropriate maintenance and monitoring.
All repairs and technical support for our student Chromebook program are provided by the School's IT department, and students receive a new device on entry to Year 10. Download the Chromebook policy to learn more (PDF).
Senior studies focus on the attainment of the Higher School Certificate, and preparation for tertiary education or the workforce. Our strong relationships with Distance Education providers and a Key Alliance with other local schools provide increased access to both specialised and trade-based courses. Targeted mentoring and study skills programs assist students to improve their study techniques, increase motivation, and build confidence.
A selection of elective HSC courses are offered in a compressed format, giving students the opportunity to complete one or two of their HSC subjects by the end of Year 11. This innovative approach allows senior students to focus their efforts on a smaller number of subjects at a time, and reduces the stress of the HSC exam period.
In keeping with our focus on equipping individuals, our Year Advisors work with students, parents and external organisations to assist with the transition from school into tertiary study, traineeships or employment.
Opportunities to Live Learning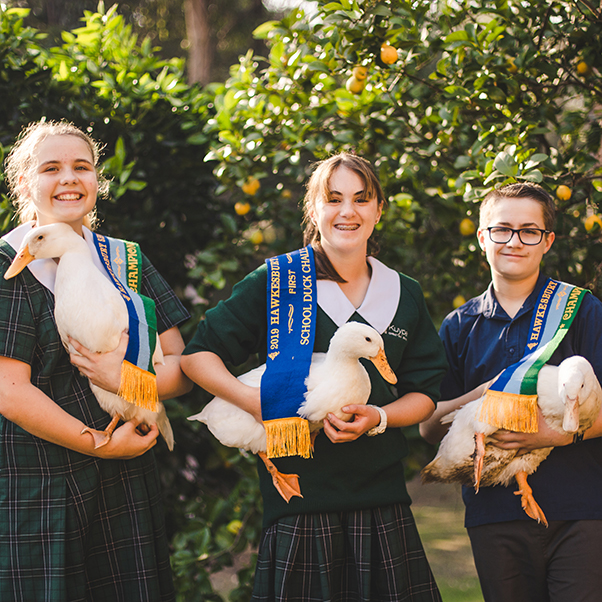 We recognise that opportunities to live learning in real life situations is key to the development of both character and competence. Students are encouraged to connect their learning to service opportunities both within the school and the broader community. In addition to rich on-site learning experiences, our Secondary extra-curricular activities are designed to extend students personal and cultural experiences as they develop a greater understanding of God's world and their place in it.
The Vanuatu Cultural Experience is a particular highlight for our senior students. Year 11 students spend a week on Efate Island, Vanuatu working with our partners in local schools and the local community. Ongoing connection with these partners through to the end of Year 12 provides the opportunity for genuine cross-cultural communication and a greater understanding of global citizenship.