Book a Tour
Come and visit our school, meet the principal and staff. 
Enrolment
Find out more about enrolment at Kuyper.
Cultivating skills to express beauty and meaning
Performing arts are a vital part of everyday life, created by God to aid us in bringing glory to Him and joy to one-another. The cultivation of creativity provides opportunities for pleasure, hope and the exploration of life in a world that is both wondrous and broken. In particular, learning a musical instrument builds self-confidence, self-discipline and teamwork. Music engages the entire brain and enhances all other aspects of learning.
Our innovative Music Program provides resources and opportunities that many of our students would not normally be afforded. All students in K-6 are actively involved in weekly music lessons with a specialist teacher, and given the opportunity to learn an instrument. Dedicated Music technology supports learning experiences and provides opportunities for students to develop technical expertise in sound production. Extracurricular programs provide a wide range of performance opportunities for students from Year 3 onwards.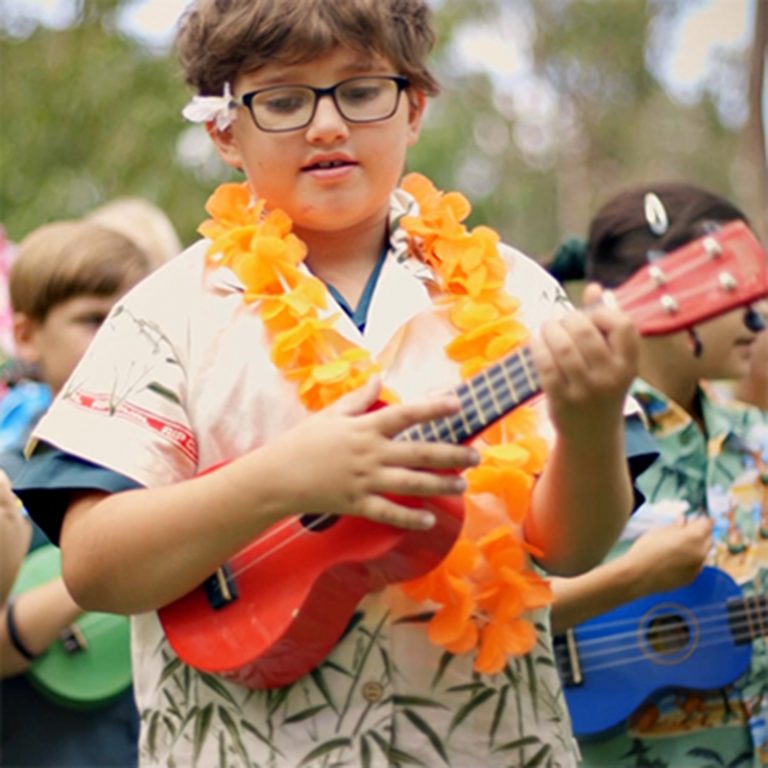 Students in K-2 participate in weekly music lessons with a specialist teacher. These sessions aim to build a love of music and an appreciation of music as an integral part of life and learning.
All Year 3 students learn to play the ukulele. They regularly perform at school assemblies and visit local Nursing Homes to share their skills by way of contextualizing their learning.
The Year 3 ukulele program flows into the Kukecumbers, our ukulele orchestra. This weekly group is known for its signature Hawaiian shirts and gives young students the opportunity to extend their learning in the basics of music theory, performance and rehearsal techniques.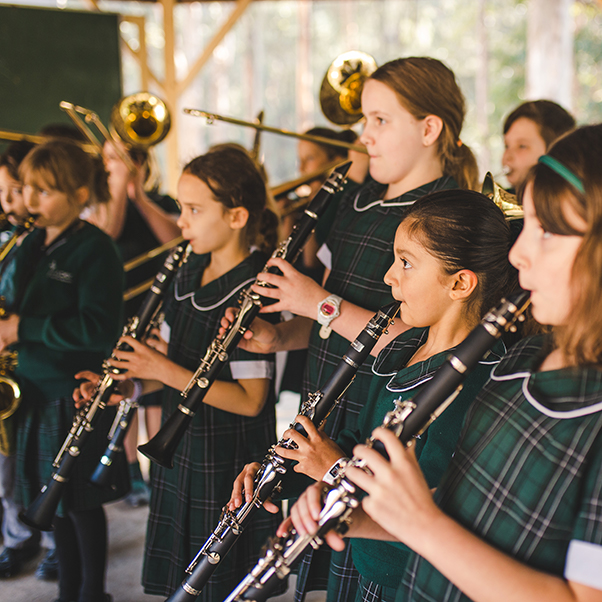 All students in Year 4 are part of the Band Program. Every student has the opportunity to learn an instrument. Students participate in an instrumental tutorial and whole band session each week, as well as being involved in regular individual rehearsal at home. The Year 4 Band Program provides a pathway into the School Concert Band from Year 5 onwards, and is part of the school curriculum at no additional cost.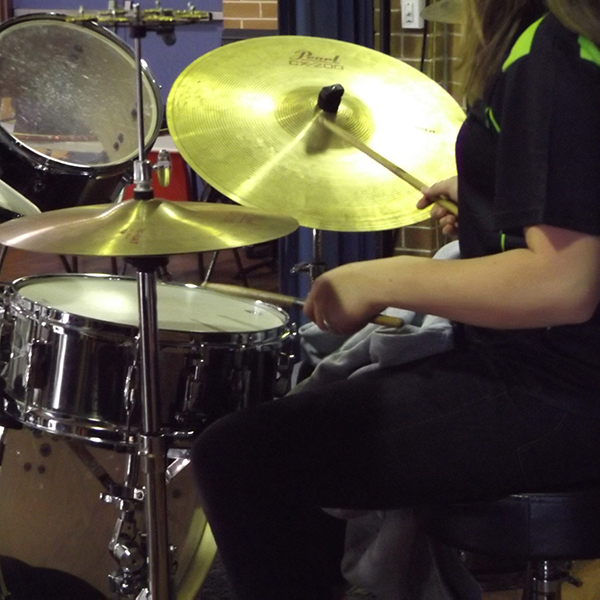 Year Five students contextualise their music learning through the study of composition. This employs conventional instruments as well as the unconventional Junk Band, Fruit and Veggie Band and Sports Shed Band. An introduction to computer-based programs allows for compositions to be recorded and shared using our portable digital recording studio and iPads.
Year Six students extend their learning with the Insploration program. This custom Instrument Exploration program involving keyboard, ukulele, guitar, bass, drums and percussion is a Kuyper innovation designed to extend musical competence and creative expression. Insploration provides a springboard into the Year 7 digital music composition program.
"Playing an instrument is not only a physical challenge, but also a brain challenge"
"I really like playing in the Yr 4 Band because you get to make mistakes and then learn from them"
"I like making music because it is fun, and you get to play lots of different instruments"
"In Music we not only learn to play instruments, but we also learn about trusting, kindness and listening"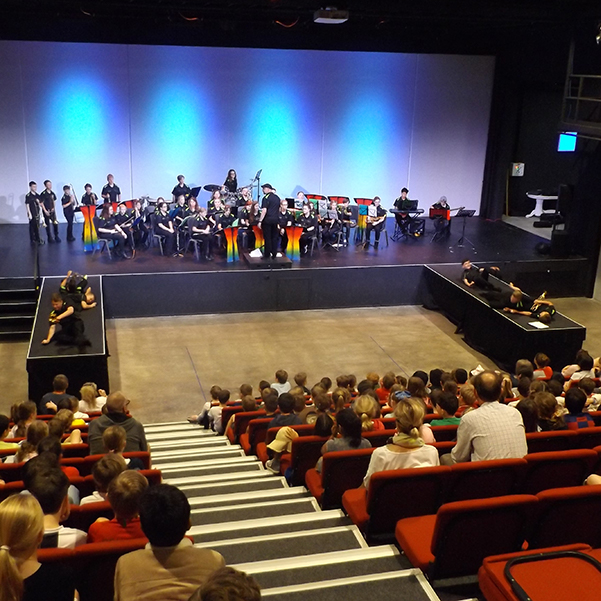 The Concert Band commenced in 2018. Fed by the Year 4 Band Program, this group is now a 45 piece band comprising students from Years 5 to 11, and staff members. The Concert Band regularly performs at school events and for local community groups. The inaugural Concert Band Tour in 2019 involved a week long trip to Port Macquarie to perform in local schools and community venues. The Concert Band will tour every alternate year.
Secondary students have the opportunity to hone individual skills in the Junior (Years 7-8) and Senior (Years 9-12) Praise and Worship Bands. These groups serve the school at assemblies and whole school events.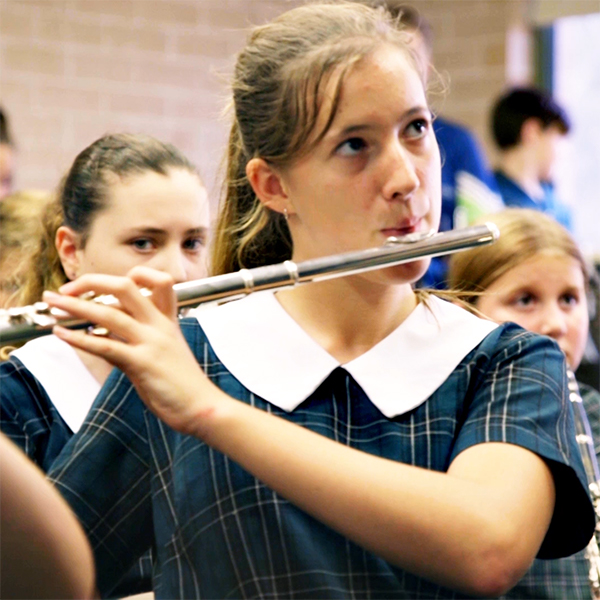 Individual lessons, provided by peripatetic music tutors are available during school hours for a variety of instruments and voice.
"It is awesome coming to a school that has its very own band"
"Being in the Band is like being in a soccer team. There is encouragement, hard work, risk-taking, teamwork and fun"
"I love performing in the Concert Band for family and friends. The last tour was awesome"
"The best thing about making music at Kuyper is that we put away our differences and come together and learn"
Kuyper has a long tradition of musicals, performing both well-known material as well as compositions written by staff and students. The Musical is performed in the alternate year to the Concert Band Tour and participation is open to students from Year 4-12. The Secondary Elective Production class are involved in all aspects of the Musical production.